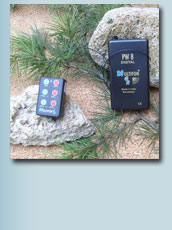 Dimensions mm: 60 x 105 x 25

It is an 8-song digital birdcall device which works with a memory card easily changeable by pressing lightly on it.

The innovative recording process of songs on the memory card guarantees high-fidelity songs and the durability of the memory itself.

This birdcall device has an inner loudspeaker which makes it practical as well as a non-bulky object. However, you can also add an external loudspeaker to increase the volume.

The appliance has also been provided with a remote control which is able to switch the device on and off, select the required song forward and backward, and control the volume up to a distance of 50 m.

It uses 9-volt alkaline batteries or an external 12-volt power supplier.

The package includes the memory card, the remote controller, the cable for connecting the external power supplier, a portable case and the battery.


If required, we provide memory with personalized songs.

This device is solely for educational and didactics purpose. Activities such as hunting are forbidden.